Located on the UC Berkeley campus, the Doreen B. Townsend Center for the Humanities is a nexus for interdisciplinary scholarship, innovations in research, and intellectual conversations among individuals from the humanities and related academic disciplines.
Since its founding in 1987, five years after the this journal's own debut in interdisciplinary scholarship, Representations and the Townsend Center have been closely allied, sharing personnel, authors, and ideas. Today, Representations is administered through the Center.
The Center's offerings include fellowship and grant programs, working groups on topics ranging from Hip Hop to Orientalism, and a wide variety of lectures and conferences. In addition to these established programs, the Center plays an integral role in the development at Berkeley of new and innovative programs that take an interdisciplinary and forward-thinking approach to scholarship by both students and faculty. The Center also edits the Berkeley Forum in the Humanities book series published by Fordham University Press.
New from Berkeley Forum in the Humanities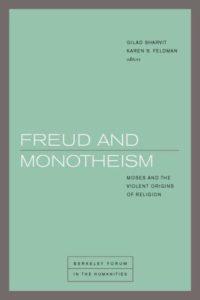 Freud and Monotheism: Moses and the Violent Origins of Religion critically examines a range of discourses surrounding Freud's Moses and Monotheism, taking as its entry point Freud's relations to Judaism, his conception of tradition and history, his theory of the mind, and his model of transgenerational inheritance.
Gilad Sharvit and Karen S. Feldman, editors
Authors include: Jan Assmann (Egyptology, University of Heidelberg), Richard Bernstein (Philosophy, New School for Social Research), Karen Feldman (German, UC Berkeley), Willi Goetschel (German and Philosophy, University of Toronto), Ronald Hendel (Near Eastern Studies, UC Berkeley), Catherine Malabou (Philosophy, Kingston University; Comparative Literature, UC Irvine), Gabriele Schwab (Comparative Literature, UC Irvine), Yael Segalovitz (Townsend Fellow, Comparative Literature, UC Berkeley), Gilad Sharvit (Townsend Fellow, Jewish Studies, UC Berkeley), Joel Whitebook (Psychoanalytic Studies, Columbia University).
ISBN-13: 9780823280032
Publisher: Fordham University Press
Publication date: 
06/05/2018
Series: Berkeley Forum in the Humanities Series
Pages: 248
Product dimensions: 6.00(w) x 9.00(h) x (d)
Paperback 28.00
Hardback 95.00