Michael Lucey, UC Berkeley Professor , will be discussing his recent book:
Imagine trying to tell someone something about yourself and your desires for which there are no words. What if the mere attempt at expression was bound to misfire, to efface the truth of that ineluctable something?
In Someone, Michael Lucey considers characters from twentieth-century French literary texts whose sexual forms prove difficult to conceptualize or represent. The characters expressing these "misfit" sexualities gravitate towards same-sex encounters. Yet they differ in subtle but crucial ways from mainstream gay or lesbian identities—whether because of a discordance between gender identity and sexuality, practices specific to a certain place and time, or the fleetingness or non-exclusivity of desire. Investigating works by Simone de Beauvoir, Colette, Jean Genet, and others, Lucey probes both the range of same-sex sexual forms in twentieth-century France and the innovative literary language authors have used to explore these evanescent forms.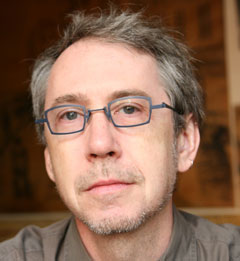 Michael Lucey
is Professor of Comparative Literature and French at UC Berkeley, where he specializes in French literature and culture of the 19th-, 20th-, and 21st-centuries. He is also the co-editor of
Representations
'
"Language In Use"
special issue and the author of several essays in this journal.