Alexei Yurchak, Associate Professor in the Department of Anthropology at UC Berkeley and Representations board member, will participate in a conference on "The Pleasures of Backwardness: Consumer Desire and Modernity in Eastern Europe." Yurchak will provide a response to the opening keynote address by Mary Neuburger, Professor of History at the University of Texas at Austin and Director of the Center for Russian, East European, and Eurasian Studies, entitled "To the 'West' and Back: Pleasure, Restraint, and 'Civilization' in Eastern Europe."
The event will take place on Thursday, April 23, at 5:15pm in the Heynes Room at the Faculty Club, UC Berkeley. For more information about the conference schedule, please visit: http://history.berkeley.edu/events.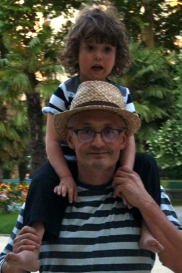 Yurchak's recent essay, "Bodies of Lenin: The Hidden Science of Communist Sovereignty," is available in Representations 129 (Winter 2015).