by Brianne Cohen
The essay begins: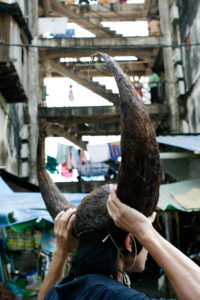 In 2011, artist Khvay Samnang offered "piggyback" rides to residents and visitors of the White Building in Phnom Penh, Cambodia, as part of his performance piece, Samnang Cow Taxi. Titled colloquially with his given name, it was a humble undertaking. Khvay wore handmade cow horns (fig. 1) and, despite his svelte frame, humorously carried people on his back as if he were a robust workhorse. Evoking the water buffalo, a laboring animal crucial to Cambodian agricultural practices, seemed an odd choice for someone ferrying people around the more urban setting of the White Building. Moreover, the taxi ride seemed to grant a touristic gaze for nonresidents of the dilapidated public housing complex. Yet the physical intimacy of the gesture, as well as the slowness and toil of it, lent a critical edge to the playful jaunt around the famous white apartment structure, transformed into a muddy gray from decades of neglect. The White Building was erected in 1963 as a modernist, utopian experiment in public housing. It was created soon after Cambodia's independence in 1953 as part of a socially optimistic, homegrown wave of New Khmer Architecture, and it was intended to house civil servants and municipal workers. After the devastating Khmer Rouge regime collapsed in 1979, many returned to the city in need of housing, and the modest apartments were repopulated with dancers, musicians, artists, and filmmakers. Khvay's own practice has been deeply indebted to the site and people of the White Building, and his slow, caring, arduous gesture highlighted a community of residents who, like the building itself, have been historically subject to state neglect, inattention, and habitual violence.
Today the building no longer stands. It was razed in July and August 2017 in order to make way for a new $80 million development by a private Japanese firm. The government had long threatened demolition of the White Building, claiming that the neighborhood was overrun with drugs, petty crime, prostitution, and poverty. Against this stigmatization, the artist collective, Stiev Selapak, roughly translated as "Art Rebels," established an experimental arts space in the building, Sa Sa Art Projects, in order to raise positive publicity for its vibrant neighborhood of skilled cultural and municipal workers. "Sa Sa" is an abbreviation of Stiev Selapak, and the group is composed of three members: Khvay Samnang, Lim Sokchanlina, and Vuth Lyno. Yet despite their community efforts, the White Building's five hundred households were more or less forced to sell their apartments to the development company and were evicted with minimal compensation. The land, after all, is in a desirable central location near the riverfront. After many years of resistance, the dynamic neighborhood was finally dispelled.
In this article, I argue that the artistic efforts of Stiev Selapak and many others to save the White Building constituted a form of what I term slow protest. In a sense, they worked to artistically "institutionalize" the building in order to validate its importance for local, national, and international audiences. This process of art institutionalization was effected through more "official" programs, such as educational initiatives, a physical and online archive, and the establishment of a regionally oriented artist residency. Yet it also assumed more "vernacular" avenues of institutionalization, through temporary experimental performances and collaborations with neighborhood residents, which emphasized the everyday, changing life of the building. Samnang Cow Taxi is an instance of the latter….
…In the end, Stiev Selapak's and other artists' attempts to institutionalize the White Building signaled an ethos of slow protest through occupation. Plainly, the building was a site of inhabitation, but by "occupation," I mean also to evoke questions of political assembly and resistance to regime-made disasters. In light of actions such as Occupy, Arab Spring, and the Umbrella Movement, scholars have recently underscored the importance of such movements' transience. In contrast, in analyzing the longer-lived, slower protest enacted by artists for the institutionalization and preservation of the White Building, I aim to tease out temporal nuances between resistant acts of occupation and inhabitation, and, in the end, I argue for the value of more permanent, intergenerational, and infrastructural forms of resistance that often receive less critical attention. The idea of slow protest signals the need for a type of activism that may not be immediate or spectacular, as in the case of revolution, but that could be more habitual, accretive, or eroding; less instantly recognizable; and geared more toward questions of maintenance and transformative infrastructure. Continue reading …
In this short Field Note in our current issue, art historian Brianne Cohen describes a resistance process she calls slow protest. She argues that through this process the Cambodian art collective Stiev Selapak and many others attempted to save Phnom Penh's iconic White Building by working to artistically "institutionalize" the building in order to visualize and scaffold a more "official" space of appearance – physical and virtual – for its precarious inhabitants. Such slow protest served as a more durational instance of occupation, or resistance to state violence through political assembly.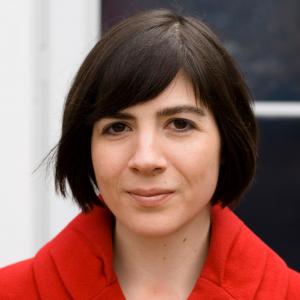 BRIANNE COHEN is an Assistant Professor at the University of Colorado, Boulder. Her research focuses on contemporary art in the public sphere, primarily in Europe and Southeast Asia, and she is the co-editor of the anthology The Photofilmic: Entangled Images in Contemporary Art and Visual Culture (Leuven University Press and Cornell University Press, 2016).