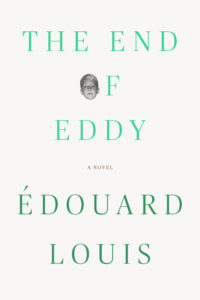 Michael Lucey's translation of The End of Eddy by Édouard Louis, published earlier this month, has just been reviewed in both the New Yorker and the New York Times. 
An autobiographical novel about growing up gay in a working-class town in Picardy, The End of Eddy at once captures the violence and desperation of life in a French factory town and provides a sensitive portrait of boyhood and sexual awakening.
The author, Édouard Louis, is a novelist and the editor of a scholarly work on Pierre Bourdieu. He is the coauthor, with the philosopher Geoffroy de Lagasnerie, of "Manifesto for an Intellectual and Political Counteroffensive," published in English by the Los Angeles Review of Books.
Michael Lucey, a member of the Representations editorial board, is a professor of French literature at the University of California, Berkeley. He is the author of Never Say I: Sexuality and the First Person in Colette, Gide, and Proust and The Misfit of the Family: Balzac and the Social Forms of Sexuality and translator of Returning to Reims by Didier Eribon.