NOW AVAILABLE!
Number 146, Spring 2019
Special Issue: The Social Life of Pain
Edited by Rachel Ablow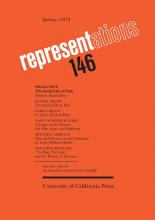 "The essays collected here counter [the] fantasy of pain as a knowable sensation that lies within that is then represented, or misrepresented, in language. Instead, they consider pain as always already enmeshed in social life, and representation as the means through which we can engage this imbrication. In so doing, they demonstrate the importance of bringing together two approaches to the problem of pain that have often been kept distinct. The first is the anthropological insight that pain behavior constitutes a mode of social engagement and, hence, that suffering is necessarily bound up with shifting, often unpredictable, cultural, familial, and interpersonal dynamics. The second involves a historical and literary-critical account of representation's complex and productive relations to both experience and culture." –from the editor's introduction
RACHEL ABLOW
The Social Life of Pain
DARIUS REJALI
Is There Truth in Pain?
NANCY SCHEPER-HUGHES
A Finger in the Wound: On Pain, Scars, and Suffering
MITCHELL MERBACK
Pain and Memory in the Formation of Early Modern Habitus
SHIGEHISA KURIYAMA
''No Pain, No Gain'' and the History of Presence
RACHEL ABLOW
An Interview with ELAINE SCARRY