by Debarati Sanyal
This past spring, as the EU brokered its refugee deal with Turkey to "save lives" in the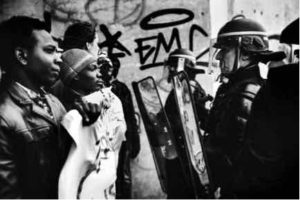 Mediterranean, the French state razed a portion of Calais's "jungle," encampments that currently shelter 10,000 refugees, while building a container camp. In this essay, an analysis of recent film and photography highlights practices of resistance to the interplay of humanitarian compassion and securitarian repression, nuancing the view of borderscapes as sites of total biopolitical capture, and of refugees as bare life. Read the full advance version of this essay free of charge here.
A revised and updated version of this essay will be published in our Spring 2017 issue. This is unedited version is being posted in advance (October 24, 2016) in light of the swiftly changing circumstances in the Calais camps.
According to today's 
Guardian
, "Hundreds of migrants and refugees have left Calais on buses for accommodation centres elsewhere in France on the first day of an operation to clear and then demolish the refugee camp in the northern port town."
DEBARATI SANYAL is a professor in the French Department at the University of California, Berkeley.