NOW AVAILABLE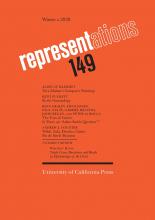 ALINE GUILLERMET
Vera Molnar's Computer Paintings
KENT PUCKETT
RAND Narratology
RYAN HEALEY, EWAN JONES,
PAUL NULTY, GABRIEL RECCHIA,
JOHN REGAN, and PETER de BOLLA
The Uses of Genre:
Is There an "Adam Smith Question"?
ANDREW J. COUNTER
Wilde, Zola, Dreyfus, Christ:
Fin de Siècle Passions
---
PLUS: AN UNTIMELY REVIEW
WHITNEY DAVIS
Triple Cross:
Binarisms and Binds in Epistemology of the Closet
---
Upcoming in Representations 150: Ellen Lockhart on the sound of wolves, Anna Shechtman on the medium concept, Abby Holekamp on female Russian nihilists, Helen Deutsch on Wimsatt and Pope, and Mark Taylor on "the lower criticism." Available in May.