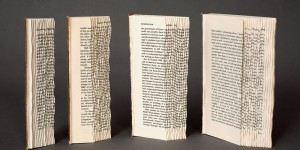 Jeffrey J. Williams's recent article in the Chronicle of Higher Education, in identifying a shift toward a new, more empirical, method of literary study, focuses significantly on "surface reading," the subject of an influential special issue of Representations: "The Way We Read Now" (Fall 2009), edited by Sharon Marcus and Stephen Best.
According to Williams, "a good deal of contemporary criticism has performed 'symptomatic reading,' a term that conveys looking for the hidden meaning of a text, using, for example, Marxian, Freudian, or deconstructive interpretation…. Surface reading instead focuses on 'what is evident, perceptible, apprehensible in texts,' as Best and Marcus put it. Thus the critic is no longer like a detective who doesn't trust the suspect but more the social scientist who describes the manifest statements of a text."
Indeed, as Marcus and Best point out in their introduction to "The Way We Read Now," "The essays [included in the issue] remind us that as much as our objects of study may conceal the structures that give rise to them, they also wear them on their sleeves."
Find "The Way We Read Now" online, or read pieces by other authors working in this vein (such as Margaret Cohen, Elaine Freedgood, Cannon Schmitt, Eric Bulson, and others) in more recent numbers of Representations, especially the special issue "Denotatively, Technically, Literally" (Winter 2014), edited by Freedgood and Schmitt.