by Cannon Schmitt
Technical language in novels, rare in itself, is still more rarely interpreted. Focusing on Robert Louis Stevenson's bildungsromans, in this essay Cannon Schmitt argues that a technical maritime lexicon marks their protagonists' accession to maturity. But that lexicon and the love for the world it attests to and demands also forces a redefinition of what it means to be mature, offering an open, adventurous, never-to-be completed Bildung that refuses the stasis of marriage or a settled profession.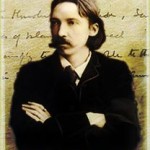 CANNON SCHMITT teaches English at the University of Toronto. The author of Alien Nation: Nineteenth-Century Gothic Fictions and English Nationality (1997) and Darwin and the Memory of the Human: Evolution, Savages, and South America (2009, paperback reprint 2013), he is currently at work on the Victorian novel, the sea, and the literal.
"Technical Maturity in Robert Louis Stevenson" is from Representations' special issue Denotatively, Technically, Literally. The introduction to the issue by Elaine Freedgood and Cannon Schmitt is available online free of charge.